If your tenant has just left your property after a tenancy of 2 years plus (sometimes less) then there will inevitably be some wear and tear and non more visually than the paintwork.
Its the first thing you will notice when you go to the see the property after a tenant has left. If you are a letting agent or the landlord of the property you will no doubt want to let the property quickly to a really good tenant.
Ask yourself this question though, Do you think repainting your property will attract a good tenant quicker? The answer is an easy one, Yes of course it will.
The BEST tenants want the best properties because they are clean and tidy and want to live in a nice clean freash property that they can be proud of. They dont want a property that hasnt been painted for years as they wont feel that it is nice enough to live in. A lower quality tenant may accept the property but are they going to look after it as well? Who knows everyone is different but we beleive that presenting a property to highest standard possible will decrease void periods and attract good quality tenants.
Manchester is a vibrant city with lots of property and a high demand for good houses and apartments. We have found that Landlords who leave the decorating works too long tend to shorter tenancies as well. Tenants simply keep a look out for a really nice property presented to a good standard (sometimes an apartment in the same building). As a landlord the loss of rent in the void period and let fee from the letting agent can cost you a lot more than the painting and decorating works would have cost in the first place.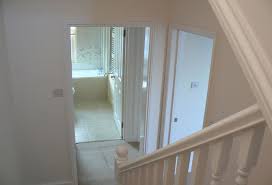 So what colour should my property be painted?
We would generally suggest neutral colours such as white gloss to woodword and either white or an off white to walls and ceilings but this really repends of the style of property and the existing decor.
We can offer our advise on the most cost effective solution to make you property look fresh and ready for a new tenancy.
What we offer;
Guidance on paint colours and finishes
Advice on specialist finishes and coatings
General decorating
Wall paper removal and hanging
Repair and re-instating of skirting and architraves if required
Maintenance and repainting of exterior renders or wall coverings
Repair, painting and maintenance of interior and exterior woodwork
Only quality materials used
Carpets and furniture and furnishings will be protected
FREE no obilagion quotation
We pride ourselves in the quality of workmanship, cleanliness and repeat business.
Why not get in touch now to see how we can help!